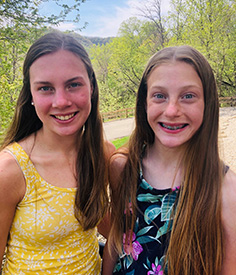 "Both our daughters have been patients. From the initial consultation through completion, everything was well explained and each & every visit was inviting, prompt, thorough, and truly a pleasant experience. We appreciated the family friendly approach and the time allowed for conversations with Dr. Taber about the continual process, and to answer any questions along the way. The result of beautiful teeth & the confidence our daughters have gained is a testament of their expertise, passion, dedication, and individualized care. Dr. Taber & staff go above & beyond and we highly recommend them!"
— Chad and Amy Pike
---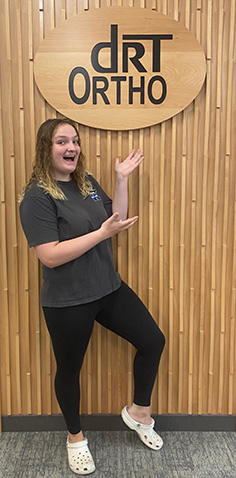 Isabella started her ortho journey in her 5th-grade year by wearing headgear. She was the champ for wearing it the most. This led to full mouth braces. We had a consultation with Dr. Taber stating that he has done the most he can do with the overbite and recommended Isabella to have jaw surgery to move her bottom jaw forward. We were referred to a great team of doctors at Gundersen Lutheran in La Crosse and had the surgery in December 2019. We were expecting a lot of pain and bruising from the surgery but Isabella pulled through the whole process with very little pain. Six months later Isabella got her braces off her 9th-grade year. We can honestly say her teeth are so beautiful and worth every penny. Isabella has more confidence and isn't afraid to smile anymore. We can't thank Dr. Taber and his staff enough for the great work they did with Isabella. If a bracket broke or wired poked her, I could call them and they could get her in almost anytime we needed to be seen. They were very accommodating and we definitely would refer anyone to Dr. Taber for ortho work.
— Adam and Bobbi Jo
---
A Great Bedside Manner
We brought our daughter Bethany, to Dr. Taber due to her lower jaw jutting forward. He spent a great deal of time with us, explaining her condition and how he would be able to correct it. His demeanor and professionalism were very reassuring and the outcome was perfect. Today her smile is beautiful.
— Debra and Scott Birdsall
---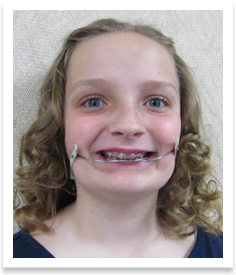 Meet Isabel Eide she is the champion of wearing headgear.
---
Dr. Taber's the Charm
I brought my son to Dr. Taber's office for an orthodontic consultation after a less than satisfying experience with a general dentist who said he could perform orthodontic work for my son. The general dentist didn't offer a consultation and automatically started my son off with headgear. The head gear continually broke and it took weeks to get replacement parts. Up to the time we terminated services, we did not have a clear understanding as to what my son's orthodontic work would entail, how long he would need to wear the braces, or the total cost involved.
When we met with Dr. Taber, we received a full consultation, complete with x-rays, treatment plan options (including an option, much to my son's relief, where headgear was not needed), complete disclosure on approximately how long my son would need to wear the braces, and exactly how much the braces would cost.
Three years later, when my son's braces came off we were extremely pleased with the results and the professional, quality service. We were so pleased that my daughter is now Dr. Taber's client. While some people may feel comfortable with orthodontic work performed by a general dentist, I prefer to have my children's orthodontic work performed by a specialist whose professional training and entire practice is devoted to orthodontics.
— Carol Daul-Elhindi
---
We're Loyal Fans
With three children needing treatment for their teeth, we have visited Dr. Taber's office on and off for 10 years. Each time, the office staff was very pleasant, the wait was minimal and the treatment was fully explained. Dr. Taber explained to each of them what they needed to do in order to have a successful treatment in a gentle, caring manner. It was always a positive experience. Now we have three children with beautiful smiles!
— Laura Eddy
---
A Bright Smile and Future
Dear Dr. Taber & Staff,
It meant a lot to me to have my teeth straightened out. You made it very convenient for me to come in and have my adjustments with my busy school schedule. I am so happy I had my braces on before my graduation pictures I love my smile.
Thank you again
Kasey Nelson